Waterproofing Contractor in KL & Selangor (Klang Valley), Malaysia
Looking for a roof waterproofing specialist in Malaysia? Discover the great advantages of waterproofing.

You'll find that waterproofing your roof is the best decision you could possibly make for your home.
Contact us now to get a FREE quote.
Why Hire a Professional for Waterproofing in Malaysia?
Did you know that even the smallest leak in your roof can cause serious damage? But worry not! We have a team of roofing specialist throughout Malaysia is here to prevent that from happening by getting you the best roof waterproofing in Malaysia.
Rain or shine, our roofs have protected us from natural calamities and the like, which is why it only makes sense for us to do our best in maintaining them.
Waterproofing can increase the lifespan of your roof and it can even reduce the impact of rain, snow, ice, sunlight, and even the wind on your home. Getting your roof done is an investment, a necessary one that will help you reap the benefits over the years. It is guaranteed that waterproofed roofs last longer than regular roofs since they can better withstand all seasons.
Roofs – if they are well-maintained – will not only be durable for a lifetime, but they retain their visual appeal.
Waterproofing helps retain its vibrant color and sheen, helping you to save on unnecessary costs on a fresh coat of paint every few years.
With the help of our roofing specialist, you can expect your house to be protected for decades. Say goodbye to leaks and random creaks in the middle of the night because our elastomeric roof and balcony coatings will keep any moisture from getting in.
How Does Waterproofing Help You?
Waterproofing your roof goes beyond protecting your home from water damage. It also gives you numerous benefits.
Not everyone knows this but the roof and the balcony are the top two places where stagnant water can accumulate.
This can turn your roof into a breeding ground for various insects and even bacteria. This is the reason why so many people develop and suffer from allergies and skin infections, especially during the rainy season.
In addition, if water damage and leaks are not addressed properly, all the moisture from the rain can cause toxic black mold to grow, especially in damp areas in hard-to-reach areas of the home.This harmful mold can cause coughs, allergic rhinitis, asthma, and skin allergies as well.
Not to mention the foul odor that comes with it will make living in the home unbearable! Only waterproofing can seal in those tiny hard-to-reach spaces and make sure that absolutely no moisture gets through.
Aside from improving your health, a waterproofed roof is more cost-effective than having to replace your roof due to water damage.
Waterproofing is basically designed for your convenience, because all you have to do is to apply the spray. However, it is recommended to always have the waterproofing done by professionals.
Benefits Of a New and Improved Waterproofed Roof
Here are other reasons why you should invest in waterproofing your roof.
No one wants a leaky basement or a creaky roof. If you are looking to up the value of your house, then waterproofing is the way to go. Because waterproofing seals all corners of your home and protects it from further damage, your home is guaranteed to retain its original look and therefore garner a higher market value.
Roof waterproofing has gained attention because it significantly increases cost-savings in the long run. Instead of having to worry about the next typhoon and doing continuous repairs every season, you can finally start saving on things that you want.
Waterproof seals keep the heat out of your home by allowing your roof to reflect sunlight. You do not have to use your AC as much since your home will be able to maintain the temperatures for a lot longer. Roof Waterproofing in Malaysia is especially beneficial to your homes because of the country's humid climate. You get to maintain the cool temperature in your house, without having to worry about how hot it is outside.
You will use a fraction of the materials you normally use when you make the switch to waterproof roofs. Not only does it lessen the cost, but you will also be doing the environment a favor. Since you are prolonging the structure of your house, it also means you are consuming fewer materials and, therefore, avoiding a lot less waste.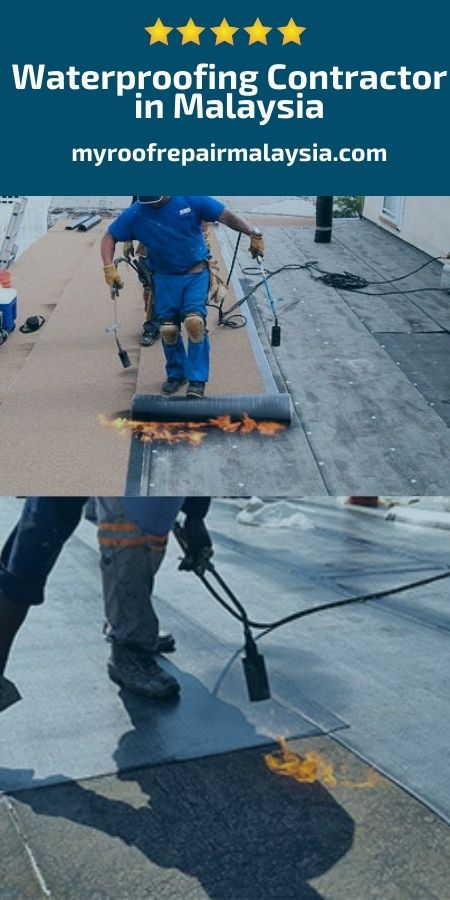 Contact Us To Book a Waterproofing Service!
Benefits Of a New and Improved Waterproofed Roof
It's very important to consider the different factors that come with your home and its roof and choosing who to trust your repairs with.
No roof is the same, and each one has its own different set of needs and equipment, which may be difficult for the regular person to figure out. This is where we, our team, come in. We make the whole process easier for you and guarantee only the best results. Give us a call and we will take care of the problems!
Are you considering waterproofing the roof of your home or establishment? Then it is good that you come to the experts! We have worked with with hundreds of clients in building safer and more efficient homes throughout Malaysia.
Contact us and get a FREE quote today!