When you first start your business, one vital step you need to do is to build a building structure to house your company. There are many things to think about such as your structure's walls, floors, ceilings, and roof; and while others are important, your roofing system is considered to be much more. Your roof is what protects you and everyone in your company from rain and heat which is why before building your structure, it's good to seek a professional roof repair contractor since they're the ones who're experienced in the field.
In order to establish a durable and long-lasting roof, it's good to know the materials you can opt for when building. Luckily, we have presented here the best materials you can use for your roofing system and how long they may last. Read on and enjoy!
Asphalt Roof Material
Among the most popular roofing material that's used in many commercial establishments is asphalt. This kind of roof gives you the benefit of having a durable and long-lasting roofing system at a very affordable price. When you happen to go for an asphalt roof, let it be installed by a professional roofer, and you can expect it to last you anywhere from 10-25 years. However, take note that this estimation still depends on your roof slope, the weather, and other environmental factors. For more information about the signs your building needs a commercial re-roofing, you can check out this post.
Metal Roof Material
If you're looking for a roofing material that can potentially last you for several decades, then investing in a metal roof is a great choice for any type of business since it can last for up to 50 years. Some metals utilized for roofs include aluminum, copper, and galvanized steel, which are the most common choice for commercial establishments. But again, several influences can play a role in the overall lifespan of your, primarily the slope of your roof when it comes to using metal.
However, it's best to utilize metal roofs in cool areas since metal can attract heat, and you surely wouldn't want to let your employees and customers feel uncomfortable; unless you install air conditioning systems.
PVC Roofing Material
Polyvinyl chloride or PVC roofs is a greatly valued roof that can last you up to 35 years. Not only is this durable and long-lasting, but it's also water and moisture resistant making it the best choice for commercial properties found in rainy areas. These roofs have been a popular choice since the 60s, a resilient and pragmatic option for roofs that are affected by industrial pollutants and waste.
Despite the advantages that surround PVC roofing, these benefits come at a higher price. The estimated cost per sq. foot of PVC roofing can range from $7 to $10 for a 50 mil membrane placed over a flat roof or a low-slope on a single or two-story building.
TPO Roof Material
If you are considering installing a single ply roofing membrane that will be energy efficient, then consider TPO (thermoplastic olefin) roofing. This kind of roof material is known to be ahead of its direct competitors; PVC and EPDM roofs, but without the extra costs and drawbacks.
Generally, TPO roofs are commonly found on flat-roofed buildings, like malls, parking structures, or warehouses. They are heat-resistant and durable making them last you from 10-20 years, depending on the maintenance is given and environmental factors.
Slate and Tile Roof Material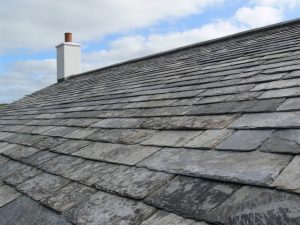 Slate and tile roofs can be costly, typically because of the sheer heft and the material's weight. It's quite amazing to know that slate and tile roofing has the longest lifespan compared to other materials. They can often last for over 100 years. But be sure that you look for an ideal warranty when deciding to invest in tile or slate roofing.
Conclusion
Your roof is a vital part of your business; it protects your employees, customers, equipment, and other products that you might be selling. Thus, it's good to invest in a roof that can last you a long time since doing so will mean secured overall safety and lesser chances of fixes.